A huge winter storm has lashed America's north-east, bringing major snow fall, icy conditions and high winds to a vast swathe of the most populous region of the United States.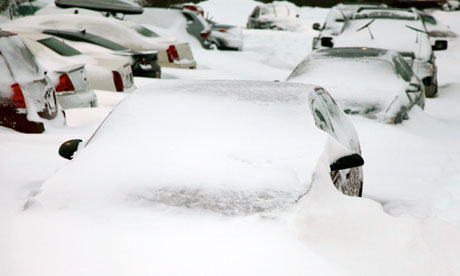 The powerful weather system created chaos on the region's roads with several states banning motorists from travel and saw more than 650,000 people left without power.

Thousands of flights were also cancelled, and governors of six states – New York, Massachusetts, Rhode Island, Connecticut, New Hampshire and Maine – declared emergencies.

The storm packed hurricane force winds at times as it pummelled its way through the area, striking most fiercely in Massachusetts, Connecticut and Rhode Island. However, it largely spared New York from any major impact, as the worst of the system passed by just to the north of the city.

The storm is believed to have caused at least four deaths so far, with three people being killed in Canada and one in upstate New York. In southern Ontario, an 80-year-old woman collapsed while shovelling snow from her driveway, and two men died in car crashes. In New York, a 74-year-old pedestrian died after he was struck by a car in Poughkeepsie when the driver lost control in the snowy conditions.

The heaviest snow appeared to strike Connecticut where 28in (71cm) had fallen on central parts of the state by early Saturday morning. At its height snow was falling there at a rate of up to five inches an hour. Elsewhere areas of south-eastern Massachusetts, Rhode Island and New Hampshire notched 2ft (60cm) or more of snow – with more still falling on Saturday.

High winds built up huge drifts, and major cities like Boston, Hartford and Providence ground to a halt. Falling tree branches and gusts brought down power lines and in Massachusetts alone some 400,000 people were without power. The snow also knocked out electricity to the Pilgrim Nuclear Power Plant in Plymouth which shut down Friday night. Authorities say there is no threat to public safety and backup generators immediately kicked in.

Airlines cancelled more than 5,300 flights through Saturday, and Boston's Logan Airport closed completely. As the storm passed by Saturday morning New York's three main airports had re-opened, though with a schedule devastated by changes.

Blizzard conditions also brought wreckage to the roads. There was a 19-car pileup in Cumberland, Maine, that caused minor injuries to some of the passengers. Meanwhile on the Long Island Expressway in New York hundreds of cars got stuck on Friday evening, forcing police to work to free them.

But in New York City, parts of which got 11in (28cm) of snow, the storm had little major impact. Underground public transport was working smoothly, and many citizens heeded mayor Michael Bloomberg's warnings to stay indoors. By Saturday morning much Manhattan was back to normal, while other boroughs were still digging out.

After striking the region the storm was headed mostly out to sea, rather than barrelling inland. That course of direction was seen as sparing much of the region further damage unlike in previous recent big weather systems – such as superstorm Sandy – which had marched inland.